MJ Concrete Contractors Dallas, TX
Concrete Contractors Near Me Dallas, TX
If you are looking for concrete contractors in Dallas, TX, we are your trusted local professional contractors. We are dedicated to delivering high-quality concrete solutions for a wide range of construction projects. With our expertise, experience, and commitment to excellence, we ensure that every project we undertake is executed with precision and attention to detail. From concrete installation and decorative finishes to repairs, demolition, and reinforcement, our comprehensive services are designed to meet all your concrete construction needs. Trust us to bring your vision to life, providing durable and visually appealing concrete structures that stand the test of time.
Concrete Driveways
Driveway Repair
Stained Concrete
Concrete Patios
Stamped Concrete
Concrete Resurfacing
Epoxy Coatings
Stamped Walkways
Concrete Steps
Sidewalk Repair/Replacement
And more...
Concrete Contractors Near Me
Concrete Installation
Our skilled concrete contractors excel in the precise installation of concrete for various applications. Check out our business listings here. If you are looking for a concrete contractor near me in Dallas, TX we are the best option for you. Whether you need a strong foundation, structural walls, or durable pavements, we have the knowledge and experience to meet your requirements. We begin with meticulous site preparation, including excavation, grading, and compaction, to create a stable base for your concrete project. Utilizing advanced concrete mixing, pouring, and finishing techniques, we ensure that the concrete is accurately placed and meets industry standards. With our attention to detail and commitment to quality, we deliver exceptional concrete installations that form the backbone of your construction project.
Decorative Concrete
At Concrete Contractors Near Me, we understand the importance of aesthetics in construction projects. That's why we specialize in creating decorative concrete finishes that add beauty and elegance to both residential and commercial spaces. Using techniques such as stamping, staining, and engraving, our skilled craftsmen can transform plain concrete surfaces into stunning works of art. Whether you desire the look of natural stone, brick, or even wood, our decorative concrete solutions offer a cost-effective and durable alternative. From decorative patios and pool decks to customized interior floors, our team can bring your design vision to life, creating unique and eye-catching surfaces that enhance the overall appeal of your space.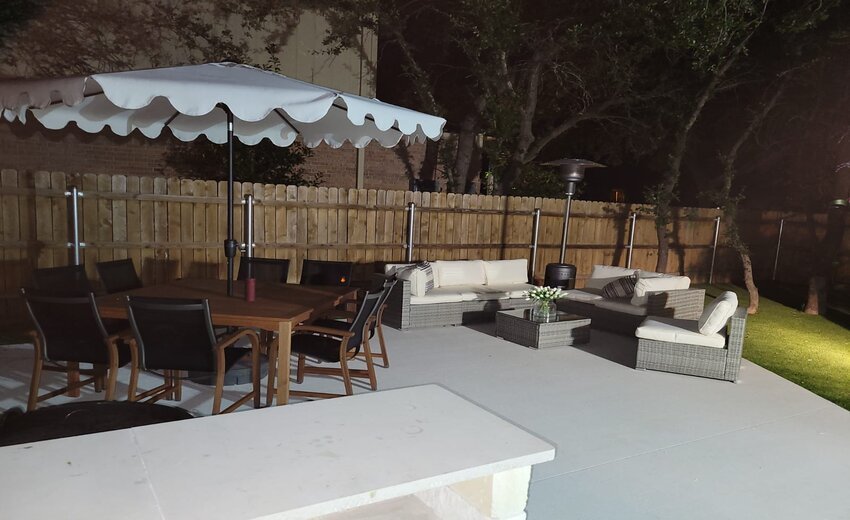 Concrete Reinforcement
To enhance the strength and durability of your concrete structures, reinforcement is essential. Our concrete contractors have extensive knowledge and expertise in integrating reinforcement materials, such as steel rebar, wire mesh, or fiber reinforcement, into the concrete matrix. By following structural engineering principles and industry best practices, we ensure that the reinforcement is properly placed and anchored within the concrete. This reinforcement significantly increases the load-bearing capacity and resistance to external forces, ensuring the longevity and stability of your structures. Count on our expertise as concrete contractor in Dallas, TX to provide you with robust and reliable concrete solutions that withstand the test of time.
As your reliable concrete contractor, Concrete Contractors Near Me is dedicated to providing comprehensive concrete solutions for all your construction needs.
From precise installations to decorative finishes, repairs, demolitions, reinforcements, and foundation construction, we have the expertise to bring your vision to life. With a commitment to quality, attention to detail, and adherence to industry standards, we deliver durable and visually appealing concrete structures that stand the test of time.
Concrete Flatwork and Foundations
At Concrete Contractors Near Me, we specialize in concrete flatwork and foundation construction, crucial components of any project. Our skilled team accurately sets dimensions, installs formwork, and places concrete for sidewalks, driveways, and parking lots. Using advanced leveling and finishing techniques, we create flat surfaces that meet design specifications, providing a solid foundation for structures.
Aditionally, we prioritize reinforcement to enhance the strength of your concrete structures. With a focus on durability, our team ensures they can withstand heavy loads and environmental stresses.
Concrete Repair and Restoration
Over time, concrete structures can deteriorate due to factors such as weathering, heavy usage, or inadequate construction. Our experienced concrete contractors are well-versed in identifying and addressing various forms of damage, including cracks, spalling, or scaling. We provide comprehensive concrete repair and restoration services to restore the structural integrity and functionality of your concrete elements. Utilizing techniques such as epoxy injection, patching, and concrete resurfacing, we ensure that your concrete is repaired effectively and efficiently. By addressing the underlying causes of deterioration, we offer long-term solutions that extend the lifespan of your structures and prevent further damage. Trust our expertise in concrete repair to revitalize your concrete surfaces and maintain their durability and safety.
Concrete Demolition and Removal
When it's time to remove or replace existing concrete structures, our concrete contractors are equipped to handle the demolition and removal process safely and efficiently. Whether you need to remove a small-scale concrete element or demolish an entire building, our team adheres to strict safety protocols and industry standards. We utilize state-of-the-art equipment and techniques to carefully dismantle and remove concrete structures, minimizing disruptions to the surrounding environment. With our expertise, you can trust us to handle your concrete demolition and removal needs with precision and professionalism, ensuring a smooth and controlled process from start to finish.
Exceptional Concrete Contractors Results 
Trust Concrete Contractors in Dallas, TX as a team of skilled professionals that will exceed your expectations.
Contact us as a concrete company in Dallas, TX today to discuss your construction needs and experience the level of expertise and dedication that sets us apart from the rest. Let us turn your vision into reality with our comprehensive concrete contractor services. Together, we can build structures that stand the test of time and make your project a resounding success.
Reach Us
Concrete Contractors Dallas
8780 Park Ln,

 Dallas, 

TX 75231
(945) 202-8142